Look into the future and learn from the wisdom of your peers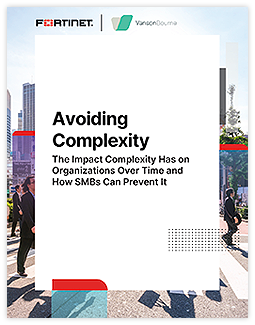 Most small and midsize businesses (SMBs) have aggressive growth aspirations and look to accelerate that growth with technology. However, many of those organizations are deploying new technologies without a master plan. As a result, they struggle with managing their environment. And when it comes to security, such complexity means increased risks to the business.
Fortinet surveyed 350 IT decision makers from organizations across the US to understand the impact complexity has on organizations over time and how it can be avoided.
Highlights from the report:
Growth Happens Fast and Upgrading When Ready is a Myth
Over 30% of a Day is Lost Managing Workarounds and Fixes
Multiple Vendors Degrade Security Effectiveness
In Hindsight, Enterprises Admit They Should Have Gone with a Single Vendor
Products Designed to Work Together, Perform Better Together
By clicking submit, I agree to the use of my personal information in accordance with Fortinet's Privacy Policy.