Considerations for the work-from-anywhere era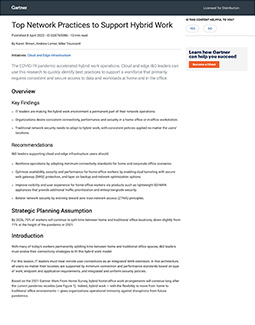 Based on the 2021 Gartner® Work from Home survey, hybrid work will continue even after the pandemic ends. This report offers cloud and edge I&O leaders best practices that support this new WFA era, such as:
Reinforcing operations by adopting minimum connectivity standards
Enabling duel tunneling with secure web gateway (SWG)
Using SD-WAN appliances to provide enterprise-grade security
Get more recommendations from Gartner®
Gartner®, Top Network Practices to Support Hybrid Work, Karen Brown, Andrew Lerner, 8 April 2022
GARTNER® is a registered trademark and service mark of Gartner®, Inc. and/or affilliates in the U.S. and internationally and is used herein with permission. All rights reserved.